A Tale of Two Decors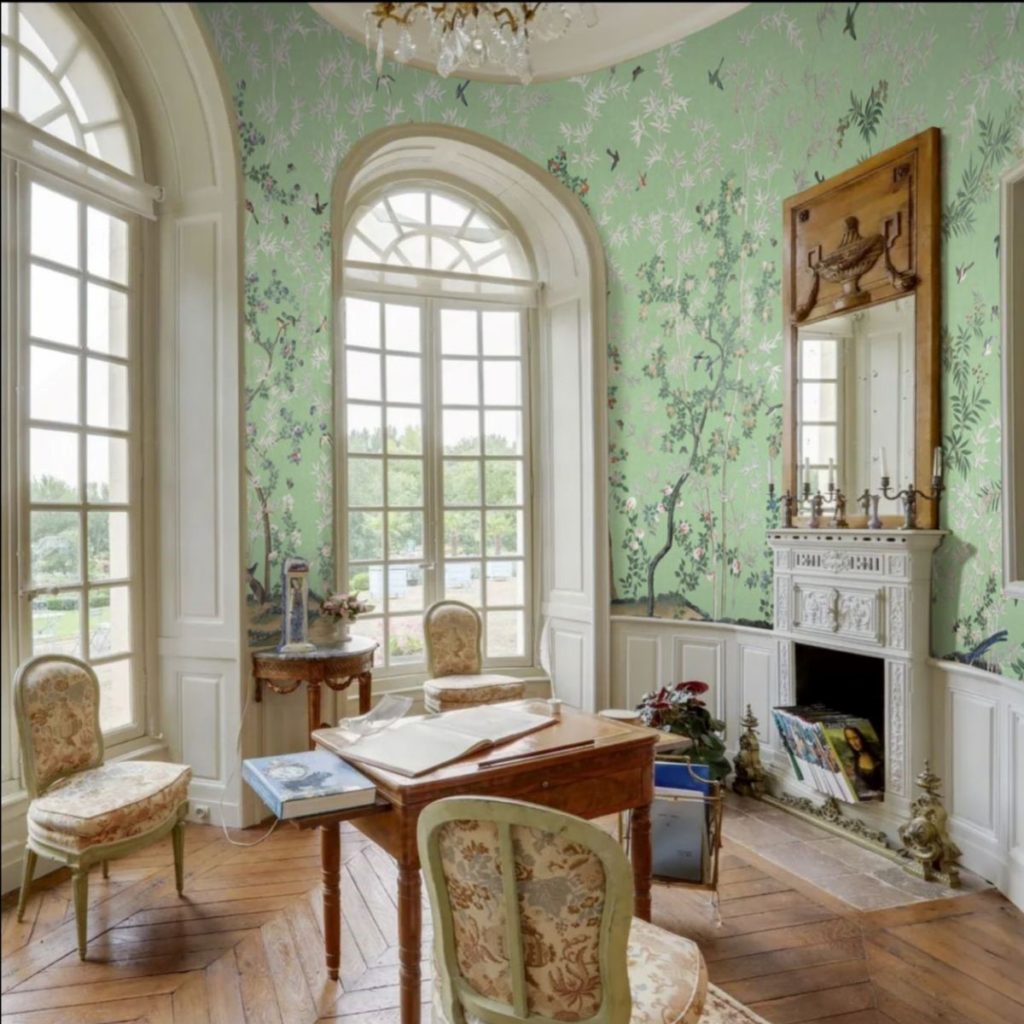 We are pleased to announce the enhancement of 2 of our most emblematic Scenic Decors : "Eastern Eden" and "Kubilai's Tent". Both designs are now available as a Scenic Décor with assorted ceilings and furnishing fabrics along with an extended color palette.

"Eastern Eden", already available in Turquoise, Mauve and Yellow colorways, is now also available in Terra Cotta, Apple Green and Pale Rose. Three additional colorways are also available in the new assorted "Eastern Eden Ceiling".

While "Kubilai's Tent", available in Blue, Beige and Green colorways, now features 5 additional colorways : Original, Mauve, Yellow, Terra Cotta and Turquoise.

Four colorways of the 2 decors are common to both, allowing the opportunity to mix and match these designs together. We believe the new colorways will bring a fresh perspective to these timeless designs, we hope they will inspire you to create your own unique spaces.

The Iksels
---
Eastern Eden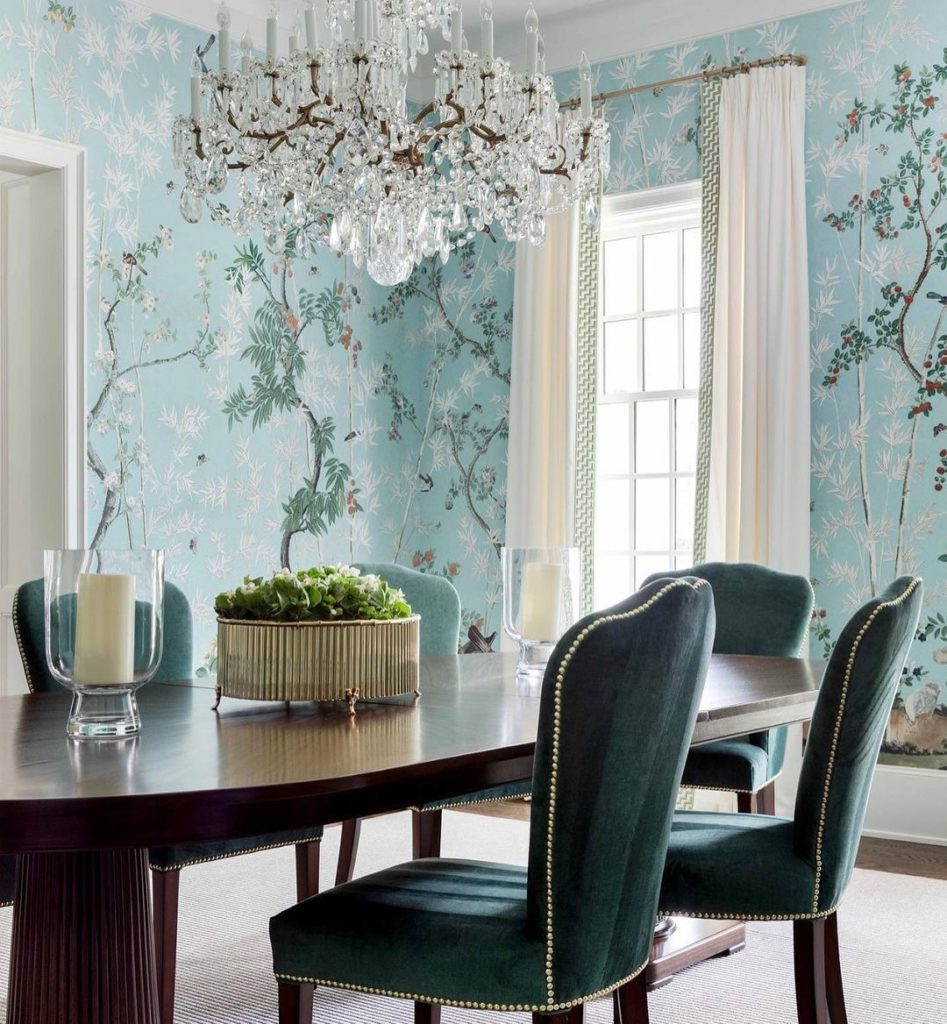 Our "Eastern Eden" Scenic Decor is a beautiful example of early Tree of Life design wallpaper made in China for the East India Company who sold it to the great houses of Europe.

The Tree of Life design is a popular motif in Chinese art and symbolizes the interconnectedness of all living things. This particular design was painted circa 1800 in the region of Canton.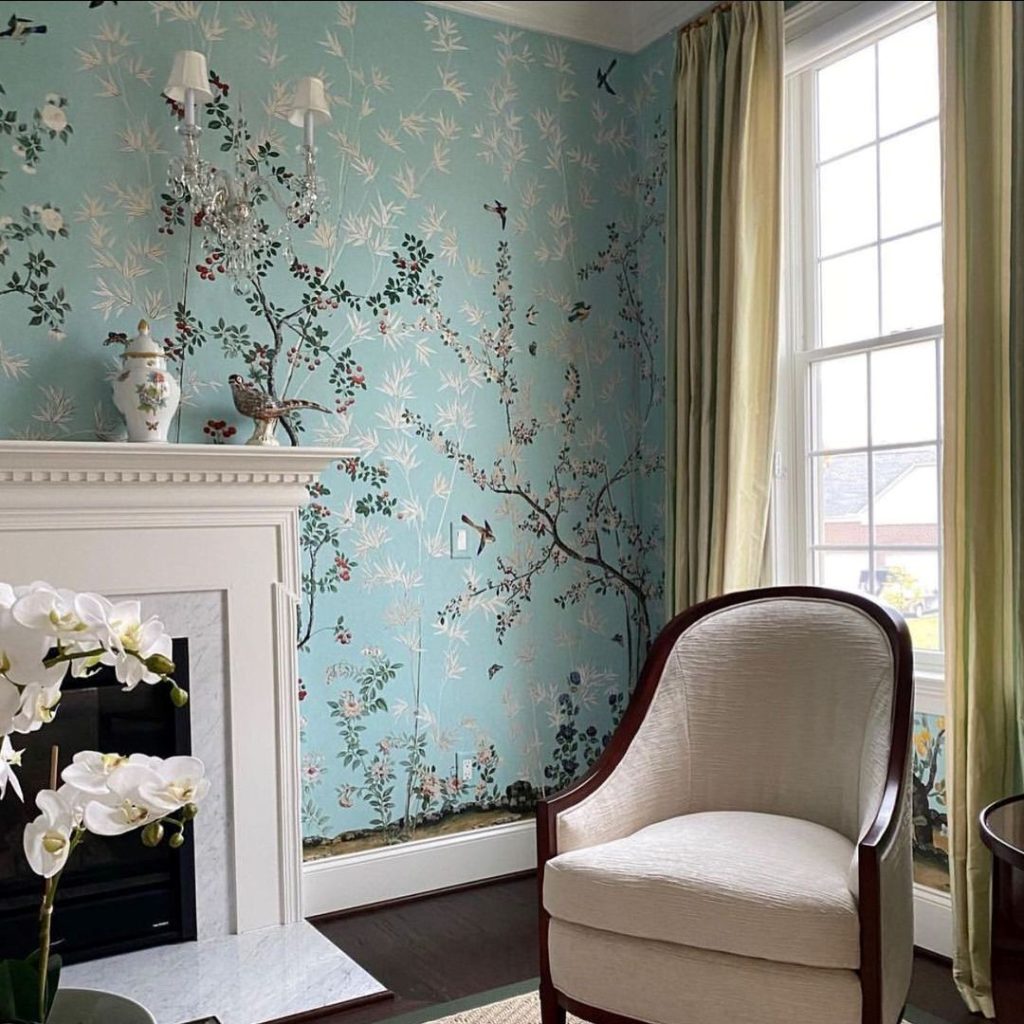 "Eastern Eden" was originally found in a château in France, where it was recovered and painstakingly restored to its former glory.

Available in 5 standard sizes and as custom, "Eastern Eden" is over 25 meters long before looping when printed at 300 cm high.
This chinoiserie, in the Turquoise colorway, is also available on Fabric under the reference RF121 Eastern Eden cs71. Printed on a soft linen, "Eastern Eden Fabric" is sold by panels available as 540 cm width x 300 cm height.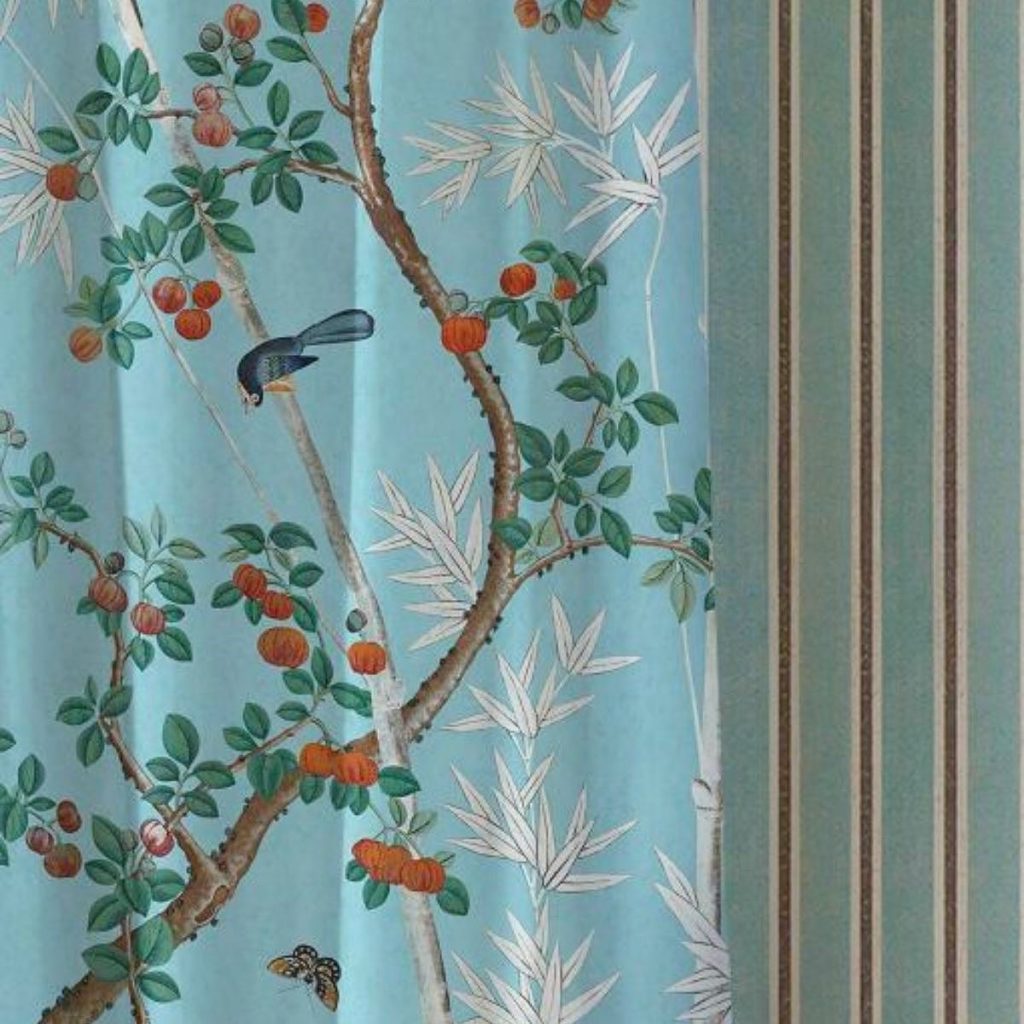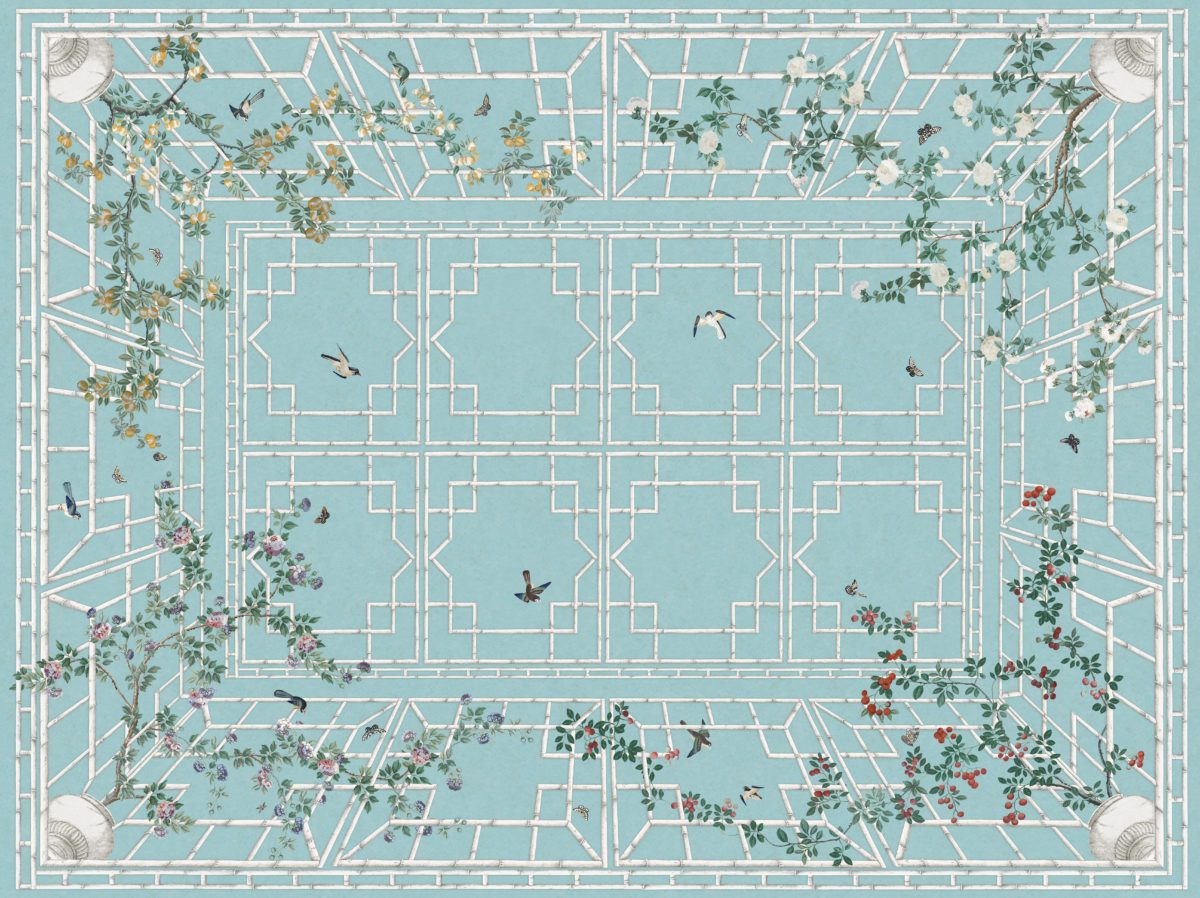 'Eastern Eden Ceiling' completes the chinoiserie of the same name with an extravagant Bamboo trellis and flower canopy in the Chinese fashion. Available in six colorways.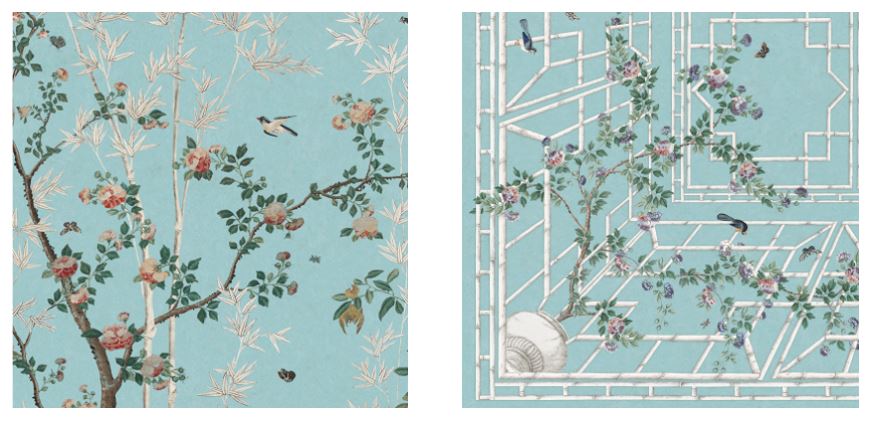 ---
Kubilai's Tent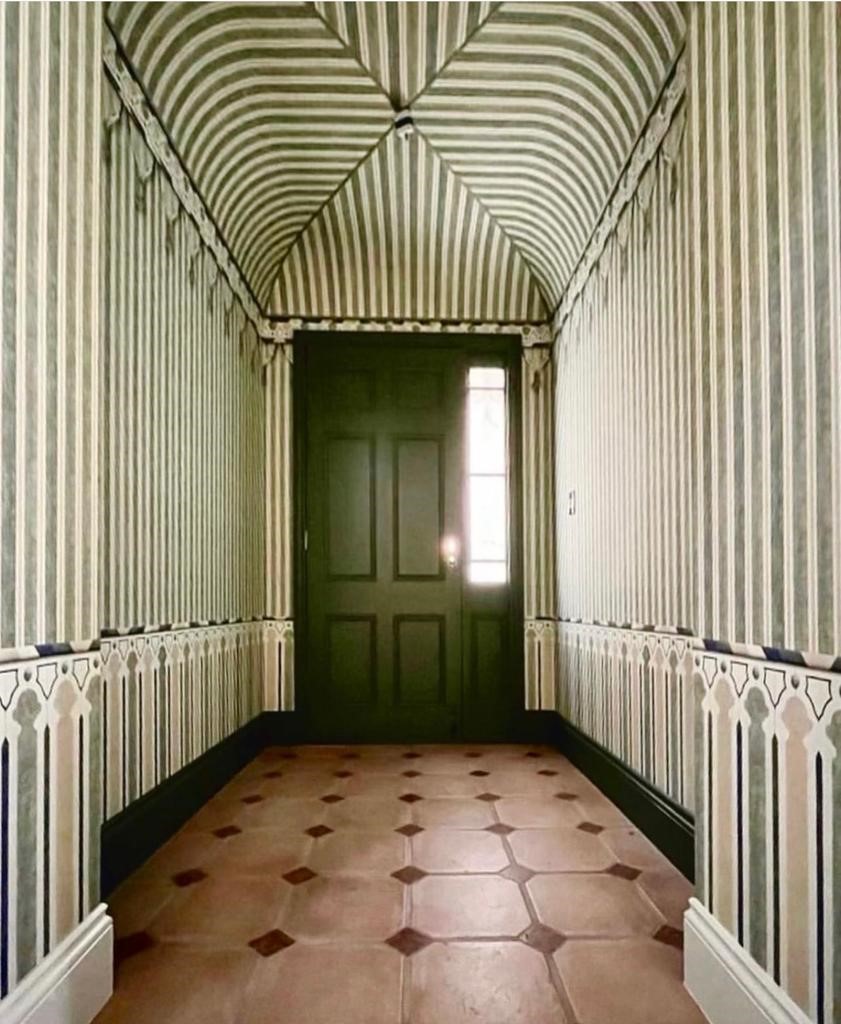 "Kubilai's Tent": this striped motif was originally present on an Abbasid wainscoting which Dimonah Iksel transformed into an exotic tent that can transform any room into a camping fantasy.
The design comes in eight colorways, four of which are assorted with our Chinoiserie Eastern Eden SC121.
"Kubilai's Tent" is also available as a Furnishing Fabric under the reference RF112 in the cs43 Blue colorway. Printed on a tent like thick cotton canvas in 320 cm high repeating panels.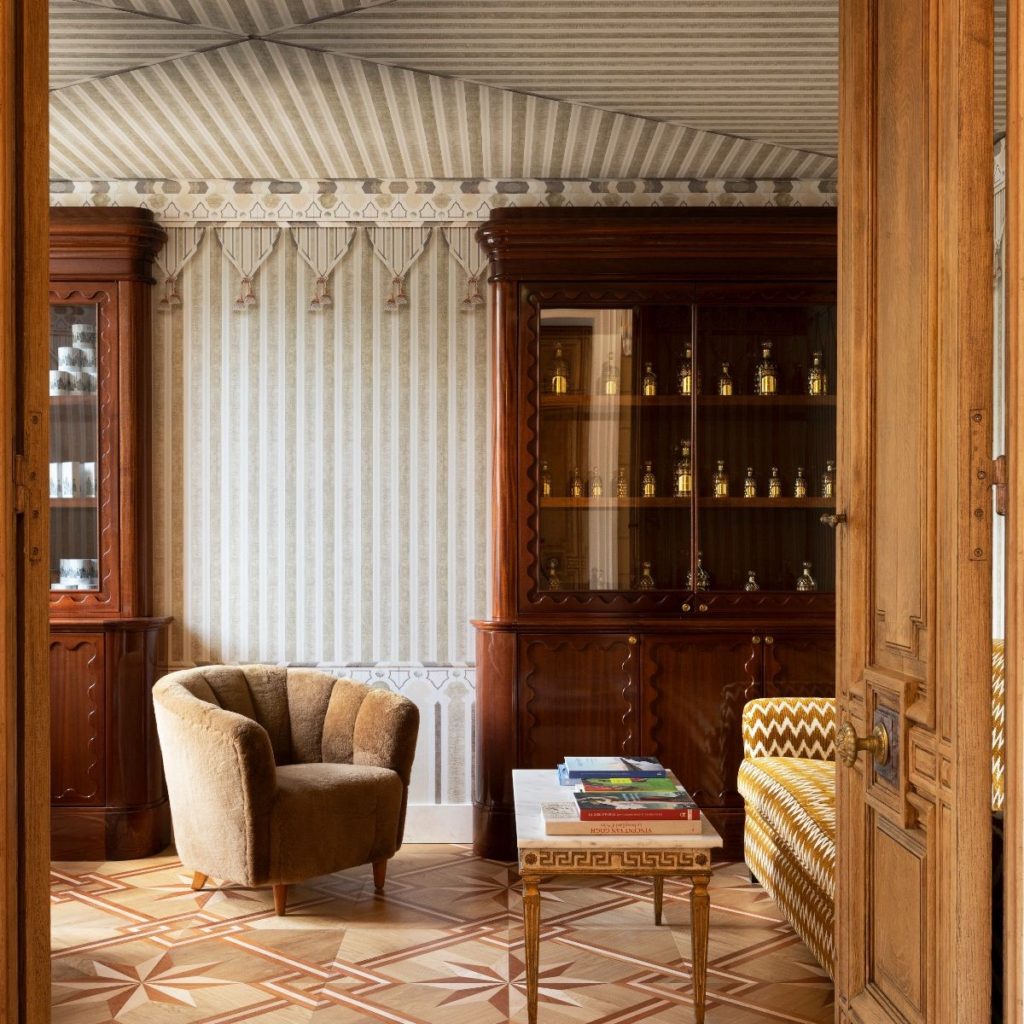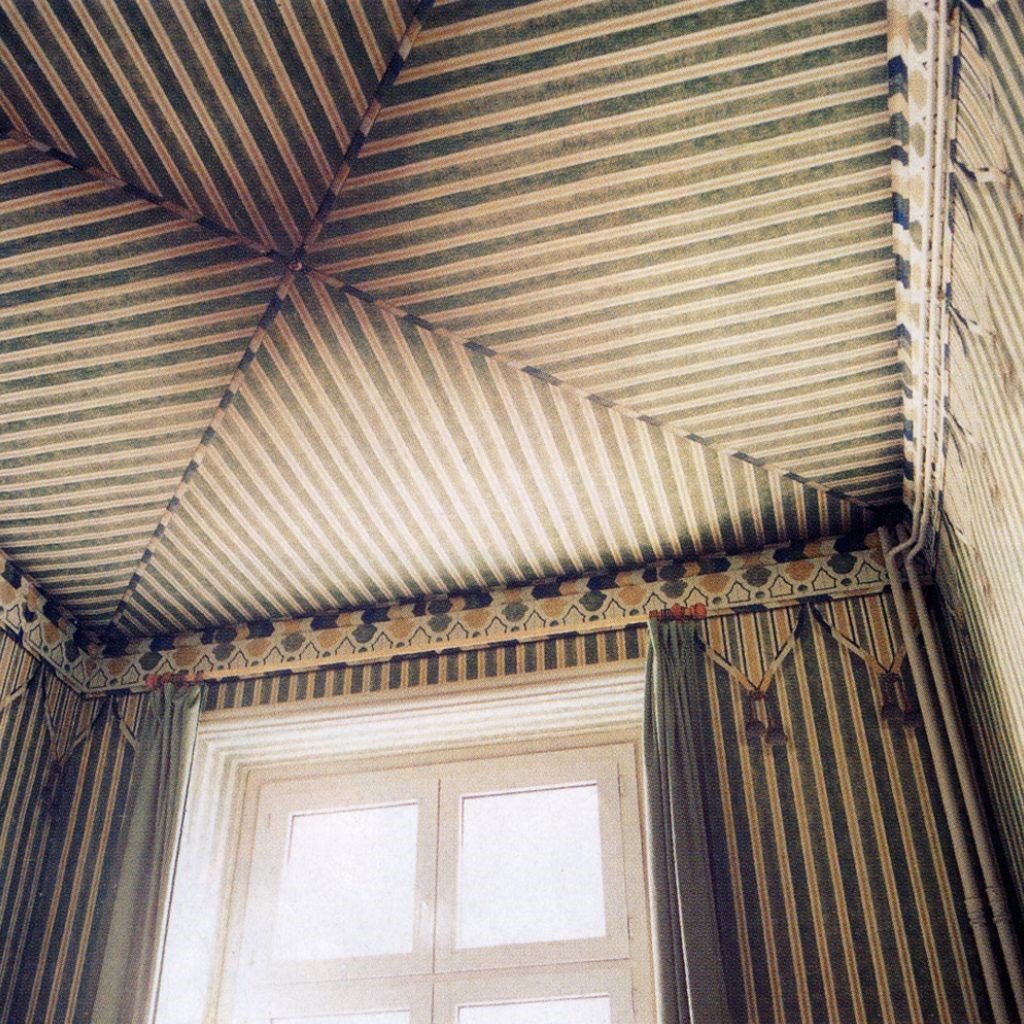 Our "Kubilai's Tent Ceiling" is a stunning design which creates a convincing trompe-l'oeil effect ceiling. It can be combined with "Kubilai's Tent Scenic Decor" to create a beautiful tent effect, or combined with other scenic designs within our collection. This ceiling is presented in two different designs: 'X-Ceiling' and 'Deep X-Ceiling'.
'Kubilai's Tent' and 'Eastern Eden' can also be mixed and matched as seen here : Kubilai's Tent walls in the Yellow colorway opening on the landscape of Eastern Eden in the assorted colorway.